Little Help From A Friend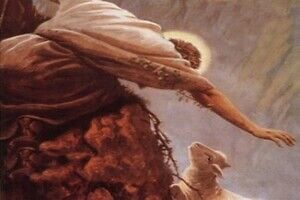 To set the stage, Jesus had just finished giving instructions to His twelve disciples (Matthew 10), when He went off preaching in the cities where they were scheduled to go. (This was about the time when John the Baptist was in prison). John the Baptist had heard about all the miracles the Messiah was doing and sent a message to his disciples to ask Jesus if He was really the one they were waiting for. (Matthew 11:1-3). Jesus told the disciples to go and tell John the Baptist about all the miracles they have seen and about His preaching the "Good News" to the poor. He also gave John the Baptist a special message. "Blessed are those who don't doubt me." (Matthew 11:4), then Jesus began to talk about John the Baptist to the crowds. One of His boldest statements about "John the Baptist" was: "Truly, of all men ever born, none shines more brightly than John the Baptist." And yet, even the "lesser lights" in the "Kingdom of Heaven" will be greater than he is. (Matthew 11:11).
Who were these "lesser lights" Jesus was talking about? Lets go to Matthew 11, verse 25, and see what Jesus has to say. Jesus prayed this prayer to the Heavenly Father: At that time Jesus answered and said, I thank thee, O Father, Lord of heaven and earth, because thou hast hid these things from the wise and prudent, and hast revealed them unto babes. (Matthew 11:25). The truth is hidden from those who think they are so wise, but it is revealed to the little children. (The humble ones, or the lesser lights). His truth is so easy, that a child can understand it before the prudent over-thinkers. (The over educated).
In (Matthew 11:27), Christ goes on to say that everything has been entrusted to Him by the Heavenly Father. Only the Father knows the Son, and the Father is known only by the Son; "And by those to whom the Son reveals Him." Meaning those who have eyes to see and ears to hear the truth in it's simplicity. Those who are willing to endure some hardship and are willing to work hard with a heavy burden. These "lesser lights" will have the promise of rest in Him. (Matthew 11:28). Even with these burdens you can learn of Him, if you let Him teach you. Christ is gentle and humble and you can have rest in your very soul, for His burden is light. (Matthew 11:29-30). The only way to peace of mind in today's world is through Christ.

One time Jesus addressed His disciples as little children (John 13:33), "He did this from time to time," and He said to them: A new commandment I give unto you, That ye love one another; as I have loved you, that ye also love one another. (John 13:34). Jesus told His disciples to love each other just as much as He loved them and this would prove to the world that they were His disciples. He also told them not to worry and let not their hearts be troubled. Let not your heart be troubled: ye trust in God, believe also in Me! (John 14:1). We must trust in Jesus (as a good friend), to have this peace of mind. Then He went on to say; In my Father's house are many mansions: if it were not so, I would have told you. I go to prepare a place for you. And I go and prepare a place for you, I will come again, and receive you unto myself; that where I am, there ye may be also. (John 14:2-3). This word "mansion" in the Greek Strong's G3438 is "Mone" (mon-ay') abode, being a resting place. Christ tells us that He will go and prepare a place for us and will come and receive us unto Himself. (John 14:3). What does this mean? Paul would best explain this in the book of Corinthians. For we know that if our earthly house of this tabernacle were dissolved, we have a building of God, an house not made with hands, eternal in the heavens. (2 Corinthians 5:1). While we live in these flesh bodies, we have a tabernacle (within ourselves), where the "Holy Spirit" dwells within. And when we die, we have a eternal house in the heavens. (an eternal dwelling place with God in our spirit bodies).
Now back in John chapter 10 Christ would tell us that "I and My Father are one." (John 10:30). And in John chapter 14, Christ tells; I will pray the Father and shall give you another "Comforter," that he may abide with you forever. (John 14:16). This comforter is the "Holy Spirit" Christ Himself (our friend), as part of the full Godhead. The world at large cannot receive Him and doesn't recognize Him. But He (the Holy Spirit), lives among us now and dwells within us. (John 14:17). But, He will only reveal Himself to those who love and obey Him; and the Heavenly Father will love them and come and abide with them also. (John 14:23), The full Godhead (1 John 2:24, 4:16, Revelation 3:20, 21:3), with the "Holy Spirit" to teach us all things. But the comforter, which is the Holy Ghost, whom the Father will send in my name, he shall teach you all things, and bring all things to your remembrance, whatsoever I have said unto you. (John 14:26). The "Comforter" (the Holy Spirit of God), to help us understand, to comfort and assure us. Our "true friend" to call upon in times of trouble.
So, what does Jesus expect from us as a friend to Him? Let's go to John chapter 15 and see. I AM the true vine, and my Father is the husbandman. (John 15:1). Christ is the vine and the Heavenly Father is the gardener. Every branch in me that beareth not fruit he taketh away: and every branch that beareth fruit, he purgeth it, that it may bring forth more fruit. (John 15:2). Christ is the vine and we are the branches. The Heavenly Father lops off every branch that does not produce fruit. And He prunes those branches that bear fruit for even larger crops. How do we produce good fruit? Through the study of the Word of God. Now ye are clean through the Word which I have spoken unto you. (John 15:3). He has already tended to us (those of us who study the Word), by pruning us back for greater strength and usefulness by means of the commands He has given us. Then Christ goes onto say: Abide in Me, and I in you. As the branch cannot bear fruit of itself, except it abide in the vine; no more can ye, except ye abide in Me. (John 15:4). We must live in Christ and He must live in us. The branch cannot produce fruit when it is severed from the vine; Just as we cannot be fruitful when we are separated from Christ. Simply put; "Without Christ we can do nothing!" (John 15:5, Acts 4:12). On the other hand, with Christ we can do all things. (Philippians 4:13, 2 Corinthians 12:9, Mark 10:27). However, there is a down-side to this.
If a man abide not in me, he is cast forth as a branch, and is withered; and men gather them, and cast them into the fire, and they are burned. (John 15:6). If we are separated from Christ, we are thrown away like a useless branch to wither and die. The up-side to this is; If ye abide in me, and my words abide in you, ye shall ask what ye will, and it shall be done unto you. (John 15:7). Obey His commands and anything we ask (to help the ministry or understanding in the Word), will be granted. Herein is my Father glorified, that ye bear much fruit; so shall ye be my disciples. (John 15:8). If you are a true disciple of Christ, you will produce good fruit and a bountiful harvest. This will bring great glory to the Heavenly Father.

Christ loves us just as His Father loves Him, and He tells us to live within His love. (John 15:9), However, there is a condition to all this. If ye keep my commandments, ye shall abide in my love; even as I have kept my Father's commandments, and abide in His love. (John 15:10). When we obey Christ we live in His love, just as Christ obeys the Heavenly Father and lives in His love. These things have I spoken unto you, that my joy might remain in you, and that your joy might be full. (John 15:11). If we abide in Him and obey Him, we will be overflowed with joy. (John 16:24, 17:13, 1 John 1:4).
Probably one of Christ's most important commandments to us to achieve this joy is to love each other as much as He loves us (John 15:12), and here is how to measure it.

Greater love hath no man than this, that a man lay down his life for his friend. (John 15:13).

How many friends do you know that would lay down their life for you? And how good of a friend are you to someone that you would lay down your life for them? Christ laid down His life for us all at the crucifixion.

Ye are my friends, if ye do whatsoever I command you. Henceforth I call you not servants; for the servant knoweth not what his lord doeth: but I have called you friends; for all things that I have heard of my Father I have made known unto you. (John 15:14-15).

Through the "Holy Spirit" He makes all things known to us as He dwells within us, and He has called you friend. "And there is no better friend, than a friend in Jesus."
click here to return to topics
Keep The Faith,
Bart