Saved by Grace Judged by Works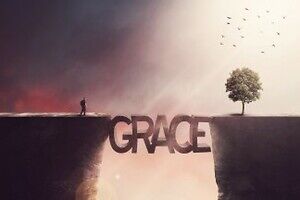 Many do not understand that our salvation depends on faith and grace, not by just trying to obey the laws of God or doing good works. It will be mostly our judgment that depend on our works. However, we are going to see how faith, works and obeying God's law are combined to help bring salvation, and how one enhances the other. Lets start in the book of Ephesians.
For by grace are ye saved through faith; and that not of yourselves: it is the gift of God: (Ephesians 2:8). Grace is the source of faith. We must have faith before we can receive the gift of grace by our Heavenly Father. This is our first step to salvation.
Not of works, lest any man should boast. (Ephesians 2:9). Salvation is not a reward for the good we have done, so none of us can take any credit for it. "You can't earn it, you can't buy it." Salvation is a gift from God, and can only be given by God! Lets go to the book of Romans.
Where is boasting then? It is excluded. By what law? of works? Nay: but by the law of faith. (Romans 3:27). Should we boast then? Not at all, because our acquittal is not based on obeying the law. "It is based on faith."
Therefore we conclude that a man is justified by faith without the deeds of the law. (Romans 3:28). So, we are made right with God through faith and not by obeying the law. (Galatians 3:8, 3:24). Is it just for Jews, or the Gentiles as well? The scriptures told us of the gentiles in the future that would be saved through their faith. "I will bless those in every nation who trust in me." (Genesis 12:1-3). The Jewish laws were our teacher and guide until Christ came to give us right standing with God through faith. So grace from our Heavenly Father is open to all who believe and trust in Him. Now lets continue in the book of Galatians.
Knowing that a man is not justified by the works of the law, but by the faith of Jesus Christ, even we have believed in Jesus Christ, that we might be justified by the faith of Christ, and not by the works of the law: for by the works of the law shall no flesh be justified. (Galatians 2:16). They knew as Jewish Christians that they could not have salvation by obeying Jewish laws. They knew they could only be right with God by having faith in Jesus Christ, but they were not practicing it. (Acts 13:38-39, Romans 1:17, Romans 8:3), it is written, but many still don't get it today. Many of the unlearned still believe salvation is gained through trying to keep the laws of God, or their works. Now lets see how faith and works are combined together. James would explain it best.
What doth it profit, my brethren, though a man say he hath faith, and have not works? can faith save him? (James 2:14). You must have faith and works. Faith without works is just playing church. Now James gives us an example.
If a brother or sister be naked, and destitute of daily food. (James 2:15). Someone really down on their luck. And one of you say unto them, Depart in peace, be ye warmed and filled; notwithstanding ye give them not those things which are needful to the body; what doth it profit? (James 2:16). If you just say to them, well have a nice day and go on your way without listening to them or try to help them in some way, what good does that do. Even so faith, if it hath not works, is dead, being alone. (James 2:17). Faith without works in a sense is dead.
Yea, a man may say, Thou hast faith, and I have works: shew me thy faith without thy works, and I will shew thee my faith by my works. (James 2:18). Some may say all you need is faith and nothing else. But, without good works, you cannot prove whether you have faith or not. Faith and works go together. "Knowing alone just don't make it." Thou believest that there is one God; thou doest well: the devils also believe, and tremble. (James 2:19). Even the demons know that there is one God, but that does not mean they will have salvation. Faith that does not result in good deeds is not real faith. But wilt thou know, O vain man, that faith without works is dead? (James 2:20). See how they are starting to work together. Here are a few more examples in scripture.
Was not Abraham our father justified by works, when he had offered Isaac his son upon the altar? (James 2:21). Abraham had the faith and the works to prove it because he was willing to do what God had asked him to do. Offer his son Isaac! Seest thou how faith wrought with his works, and by works was faith made perfect? (James 2:22). His faith was made complete by what he did. If you just have faith and no works, you are spiritually dead. And the scripture was fulfilled which saith, Abraham believed God, and it was imputed unto him for righteousness: and he was called the Friend of God. (James 2:23). It happened just as the scripture said. Abraham trusted God, and God called him His friend. (Isaiah 41:8).
Ye see then how that by works a man is justified, and not by faith only. (James 2:24). So, we can come to the conclusion that a man is saved by what he does as well as what he believes. Faith alone is not enough, you need to "do good" in God's eyes. Again, faith and works working together.
Here is another example. Likewise also was not Rahab the harlot justified by works, when she had received the messengers, and had sent them out another way? (James 2:25). Rahab was another example of faith and works. She was saved because of what she did when she hid the messengers and sent them on their way safely down a different road. (Joshua 2:3).
For as the body without the spirit is dead, so faith without works is dead also. (James 2:26). Just as the body is dead when there is no spirit in it, so is faith without good deeds. I am sure you have heard the saying before, "many talk the talk, but don't walk the walk." Sometimes what you do, speaks louder than what you say. Lets go to the book of Matthew and listen to the teachings of Christ, when He was asked how to receive salvation and eternal life.
And, behold, one came and said unto him, Good Master, what good thing shall I do, that I may have eternal life? (Matthew 19:16). This man was thinking of just works; but salvation does not come just from works, but by faith. However, once we are saved, God wants us to do His good works by spreading the gospel "to the lost souls."
Christ explains to the man. And he said unto him, Why callest thou me good? there is none good but one, that is, God: but if thou wilt enter into life, keep the commandments. (Matthew 19:17). If you want to enter into eternal life, keep the commandments. Many will tell you that the law was done away with when Christ came; but Christ came to fulfill the law, not destroy it. Now we will see all three working together. Faith, works, and the law of Gods commandments.
He saith unto him, Which? Jesus said, Thou shalt do no murder, Thou shalt not commit adultery, Thou shalt not steal, Thou shalt not bear false witness, (Matthew 19:18). The man asked which commandments and Christ answered him.
Honour thy father and thy mother: and, Thou shalt love thy neighbour as thyself. (Matthew 19:19). two very important commandments to think about, but He was referring to all of them. The young man replies to Christ that he had kept all those laws. The young man saith unto him, All these things have I kept from my youth up: what lack I yet? (Matthew 19:20). How many times have we heard that one from people or preachers. If someone tells you that they have never broken one of the ten commandments, they are lying to you. As long as we are in these flesh bodies, we are going to mess up once in a while.
Now Jesus is going to test the man to see if he is for real. Jesus said unto him, If thou wilt be perfect, go and sell that thou hast, and give to the poor, and thou shalt have treasure in heaven: and come and follow me. (Matthew 19:21). If you want to be perfect like you say, go and sell all you have and give it to the poor and build your treasures in heaven. But when the young man heard that saying, he went away sorrowful: for he had great possessions. (Matthew 19:22). The man was rich; but the only problem is that he was a con-artist. All his wealthy gains were from coveting other peoples goods. One of the commandments Christ left out. This man could not let the riches go. How many rip-off artists do we have in the world today? It's all about the money! Lets face it, most people that are wealthy could never let the money go no matter how they got it.
Jesus takes the explanation a step further to His disciples. Then said Jesus unto his disciples, Verily I say unto you, That a rich man shall hardly enter into the kingdom of heaven. (Matthew 19:23). It is almost impossible for a rich man to get into the Kingdom of Heaven. A man that is rich with God's blessings will have no problem, but the money cannot become the top priority in his life or be from ill gotten gains. And again I say unto you, It is easier for a camel to go through the eye of a needle, than for a rich man to enter into the kingdom of God. (Matthew 19:24). During this time there were two gates to the walled cities. The large main gate for during the day, and the small entrance gate called (the needle gate) for the evening when the main gate was closed. A camel would not fit through the needle gate unless it was first unloaded of it's goods. It is the same for one who must unload all his or her love for money, material things, and ill gotten gains to enter the Kingdom of Heaven. Some will, but many will not! Again, it is all about the money and possessions to many. When his disciples heard it, they were exceedingly amazed, saying, Who then can be saved? (Matthew 19:25). They thought it would be impossible to be saved. They weren't thinking of the whole picture. But, Christ gave them the answer.
But Jesus beheld them, and said unto them, With men this is impossible; but with God all things are possible. (Matthew 19:26). It is impossible for you to save yourself, but with God, all things are possible. That is why God gave His only begotten Son to die and be sacrificed for all the sins of the world. It is God who decides and who makes it happen. Now lets go to the book of Revelation and see how we are both judged and rewarded by our works.
And I saw the dead, small and great, stand before God; and the books were opened: and another book was opened, which is the book of life: and the dead were judged out of those things which were written in the books, according to their works. (Revelation 20:12). We are speaking of the spiritual dead here. Those who were never taught the truth. They will be judged according to their works, good deeds, not by their faith. Why? Because they never had the truth to have faith. And the sea gave up the dead which were in it; and death and hell delivered up the dead which were in them: and they were judged every man according to their works. (Revelation 20:13). The sea or waters represents the people who give up the spiritually dead. And death and hell were cast into the lake of fire. This is the second death. (Revelation 20:14). The second death is the death of the soul. Matthew 10:28. Blotted out forever! And whosoever was not found written in the book of life was cast into the lake of fire. (Revelation 20:15). Remember verse 20:12 that the books were open to judge the spiritual dead by their works. But, those who are not in the book of life will be blotted out for ever and death will be swallowed up in victory. (1 Corinthians 15:54-58). So, what about the rewards at judgment day for those who were righteous?
To set the stage we are at the wedding feast of God to the saints. And I heard as it were the voice of a great multitude, and as the voice of many waters, and as the voice of mighty thunderings, saying, Alleluia: for the Lord God omnipotent reigneth. (Revelation 19:6). Shouting and celebrating of many people for the one and only God! Let us be glad and rejoice, and give honour to him: for the marriage of the Lamb is come, and his wife hath made herself ready. (Revelation 19:7). Time for the wedding banquet of the Lamb, and His bride has prepared herself. For those He knew before (Romans 8:29-30), "Those who were called and justified." And to her was granted that she should be arrayed in fine linen, clean and white: for the fine linen is the righteousness of saints. (Revelation 19:8). Meaning pure because her deeds our pure. The righteous acts of the saints. The good deeds done by the people of God. "It will be reward time for the saints on that day." So, I think that we can safely come to the conclusion that we are "saved by grace, and judged by works."
click here to return to topics
Keep The Faith,
Bart